Introducing DermaLight LED Photon Therapy Laser Mask
Advanced light therapy technology was now available at your comfortable home. Bring you a revolutionary way of curing acne. Blue light and red light work together to clear acne and allows skin to heal itself. Clinically proven to be safe for all skin types including sensitive skin. Use every day and get clearer, healthier skin.
FEATURES :
12 blue light beads & 10 red light beads work together
Deliver whole face therapy and strong light energy
Chemical free and UV free, safe for all skin types
Exclusive rechargeable controller, convenient to use
Customize treating time according to your needs
Eye shield reduces the damage of light to the eyes
HOW TO USE :
1. Wash and dry your face to remove oil and makeup.
2. Connect the light mask to the controller via the power cord.
3. Open the over-ear arms and put the light mask on.
4. Turn the light mask on and choose a treating time.
5. Press the power button to begin your treatment. 
6. Apply skin care product after treatment for best result.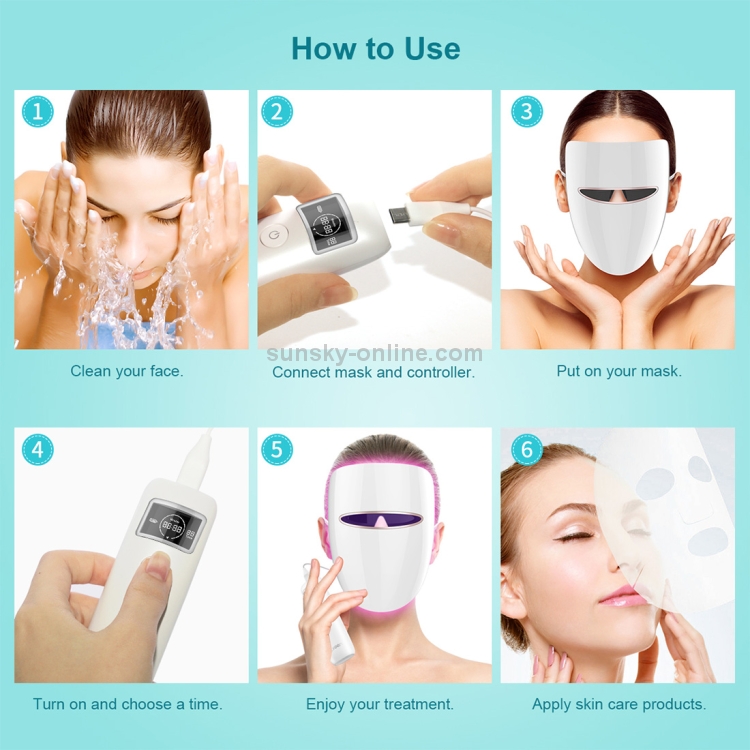 NOTES :
1. Do not use the device if you are particularly sensitive to light.
2. Do not use the device if you are pregnant or nursing.
3. Do not get liquid inside the device as it is not waterproof. 
4. Stop using the device if any irritation occurs.
5. Keep the device out of reach of children.
SPECIFICATIONS :
Materials: ABS+PC+PVC

Battery Capacity: 2000mAh
Input: 5V/1A      
Output: 5V/1A
Working Temperature: 42~46℃ (107.6 ~114.8℉)
Wave Length: Blue light -- 450nm / Red light -- 625nm
PACKAGE INCLUDED :
1 x Facial Light Therapy Mask  
1 x Type-c Charging Cable
SATISFACTION GUARANTEED - EASY REFUNDS
If for whatever reason, you decide you are not satisfied, you can easily and quickly contact our helpful customer support to get an easy refund. We just ask that you do not scratch on product and we'll refund you, no questions!
HIGH DEMAND - Order arrives between 15-17 days on average
Due to extremely high demand, orders take 15-17 days to ship and arrive. Please be patient, we are doing our very best to fulfill every order that we receive!